A Story of Small Change:
Or, my relationship with The Dartmouth
Shortly after I was accepted to Dartmouth in the winter of 2013 (nearly 4.5 years ago), I began reading The Dartmouth – our student newspaper of record – each day. I loved the inside glimpses of college life afforded to me by the opinion and news articles that were published each day of the term. Many of them were not positive. The time at whcih I was joining Dartmouth's community was anything but halycon. The future of the greek system, hazing, and sexual assault were (and still are) dominating news cycle of otherwise idyllic Hanover, New Hampshire. Although the tone of The Dartmouth's opinion articles are often negative, I was intrigued by the daily efforts of students to effect change through the use of the written word and argumentation.
As I went into my freshmen year, and I gained a better grasp of the intricacies surrounding the issues surrounding Dartmouth, I remember thinking to myself, "I want to appear in the opinion pages of The Dartmouth someday, and I hope that I can create change for the better." Freshmen year came and went; I pushed my goal of writing an opinion article to the background. During my sophomore year, I actually began working for "the D" – as it's affectionately called – as both a deliverer and templating editor. The job of newspaper delivery is rather uncomplicated, but it paid well and forced me to get up before noon, which wasn't my strongsuit as a college freshmen. As a templating editor, I put together the bare bones of the newspaper each day. I positioned ads throughout the newspaper and made sure the date was updated. It was not a glamorous job, but I did get my name at the very bottom of the masthead.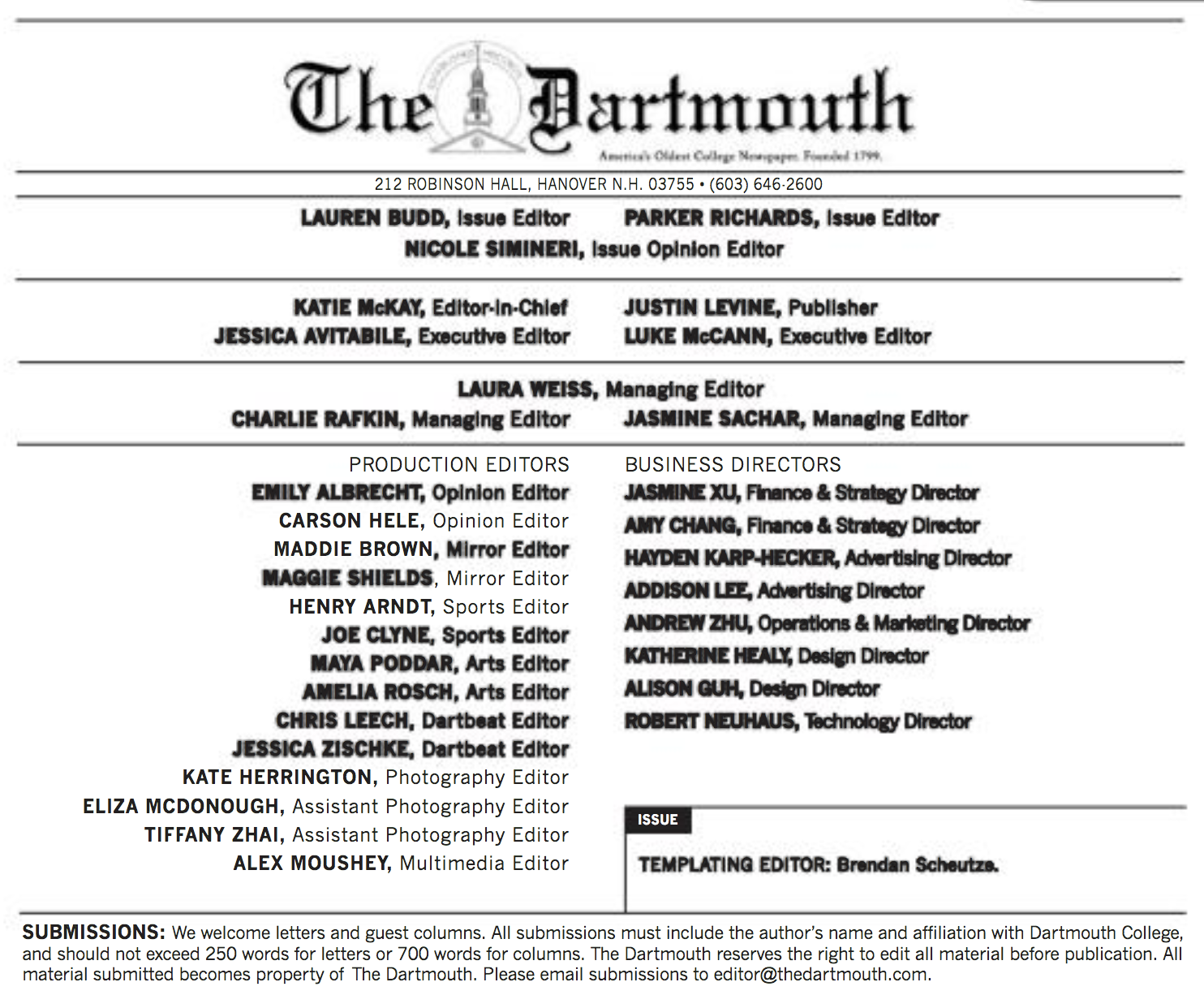 Because the templating editor job is not particularly interesting, the attrition rate for templating editors was high. Eventaully, everyone with more seniority quit, and I was the only one left to lead the charge. So, I ended up becoming the templating managor for a short time (I think maybe a term). Because I was a fill-in for someone who had recently quit, I am not sure that this change was ever reflected by the masthead. During the height of my tenure as a templating editor (manager?), I remember spending quite a few hours producing the layout for the 2015 homecoming issue.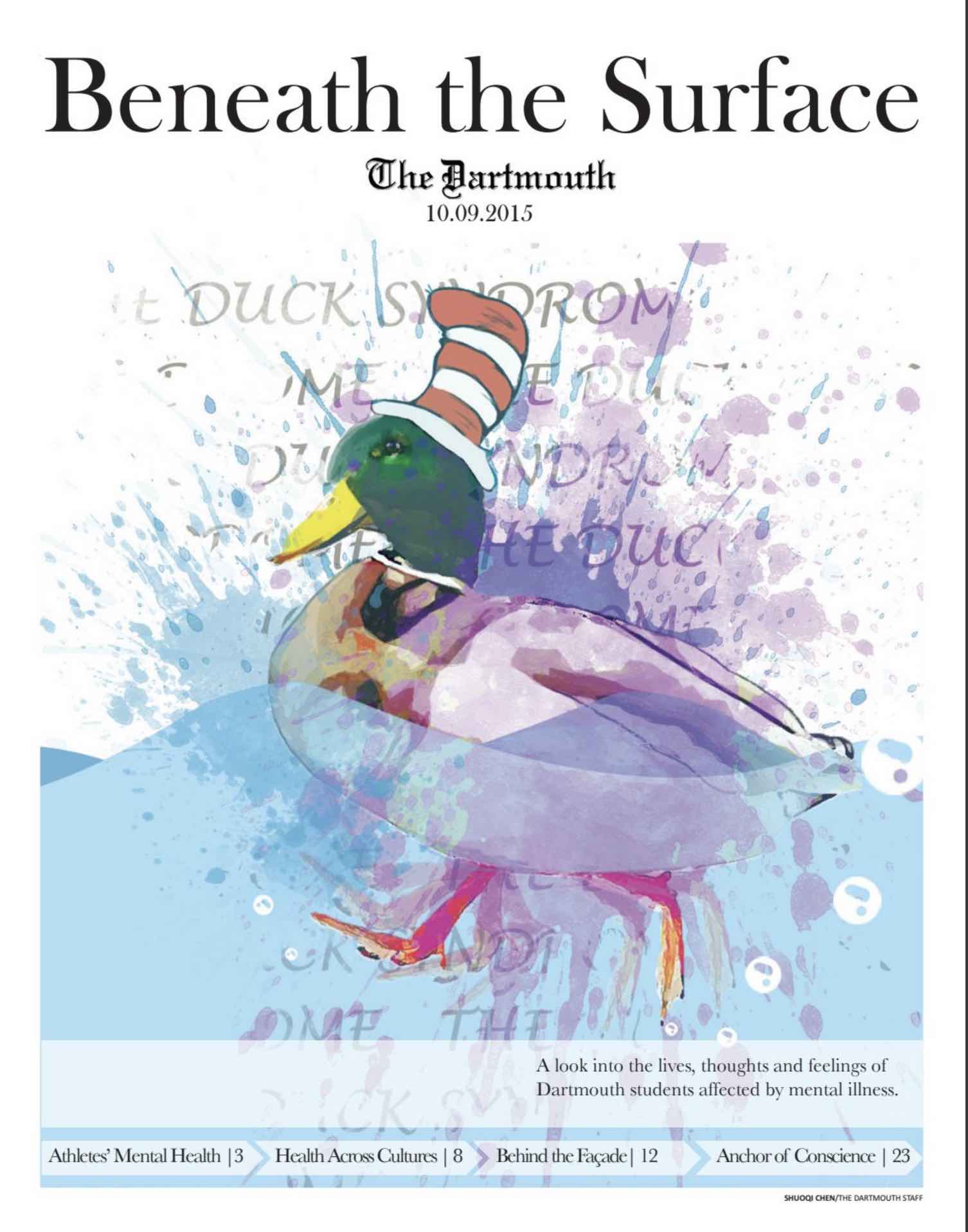 In the Winter of 2015, I took my one required off-term to intern at Union Kitchen in Washington D.C. as a logistics and marketing intern. During my internship, I lost my position as the templating manager, and I never bothered to become involved with the Dartmouth again.
That was until last fall. As a senior, the fall is an exciting term. It's the first of your "lasts." It's your last Hanover fall, your last homecoming as a student, and your last chance to make an impact on campus. Coincidentally, the fall was also a period of personal adoption of the Internet of Things throughout my room at Alpha Theta. My room housed an Amazon Alexa smart speaker, an Xbox One, and a stereo recieved hooked up to these audio inputs, which drove a pair of recquisitioned Klipsch Heresy IIs.
As I began to setup my dorm room in the fall, I realized that Dartmouth's internet policies were particularly antagonistic to devices without screens or full-fledged operating systems, such as my Echo Dot and Xbox One. In order to circumvent the restrictions of Dartmouth's network, I had to turn my Rapsberry Pi into WiFi router. Although I was able to get my devices online, I thought that the restrictions were unecessary, and likely to hamper the ability of Dartmouth students to innovate in the domain of internet-connected devices.I ruminated about the poor state of Dartmouth's network for several weeks. One of my housemates approached me during the middle of the term with the idea of installing a set of Phillips Hue smart lightbulbs. I was enthusiastic about the prospect of fitting our house with the energy efficient and flexible smart lightbulbs, which are just now becoming afforable.
Unfortunately, we ran into the same problem I had while setting up my dorm room. The lightbulbs needed a less restrictive network environment. I eventually circumvented these restrictions by modifying a Raspberry Pi 3 to act as a router, which was a fun learning experience in its own right. Although I had gotten around the network requirements, I slowly became more and more enthusiastic about the idea of trying to change Dartmouth's network policies. I also began to remember a promise I had made to myself freshmen year, saying that I would eventually write an op-ed for The Dartmouth.
With these ideas coming together in my mind, I began to draft an op-ed, and within two hours I had a draft of about 550 words. I proofread it and sent it to the editors of the newspaper. Within a couple days, I heard back from the editors. They asked for some sourcing for my factual claims and asked me to expand upon a couple of points. Within two weeks, my op-ed was published in The Dartmouth. It's still available online.
Honestly, I hadn't anticipated that anyone with any power would read my op-ed. And if someone with institutional power were to read my op-ed, I had not expected them to take my complaints seriously. However, within a couple hours of my article going live, the CIO of Dartmouth College responded via a commment asking me to get in touch with him. Unfortunately, this occurred during the end of the term and I was knee-deep in graduate school applications, so I did not respond to this comment. As the winter break neared, I forgot about my network policy agitations and returned home.

A couple of months passed. I forgot about my op-ed, and I had figured that nothing would ever be done to fix the network problems at Dartmouth College. Once again, my cyniscism was met with rebuke. One early morning, at around 1am when the Dartmouth Daily email update is sent to campus, I noticed a small announcement.

That's right! They had implemented my suggestions. Thanks to my op-ed and some "suggestions from faculty and students" (I wonder if there actually were other faculty or students?), the Dartmouth Wifi network is now less cumbersome to log onto. I now may be an alumn of the College on the Hill, but it does bring me pride that I was able to effect small, but meaningful change during my time there.
---